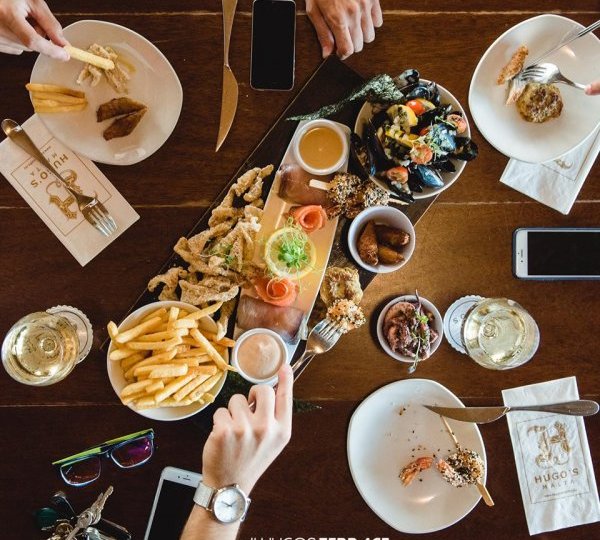 If there's one thing that most Maltese people can agree on, it's seafood and fish. Much of our local cuisine stems from the fruits of the sea, with dishes such as swordfish and sea bass (spnott) making frequent appearances on the family dinner table – especially during summer! Our team at Hugo's would like to share some fabulous fishy dishes on the menu at Hugo's Terrace.
The Poseidon Platter
Aptly named and oh-so-delicious, this platter is chock-full of mouth-watering ingredients including calamari fritti, local octopus, king prawns and marinated smoked swordfish. Served with focaccia bread and seasoned with ginger miso dressing and chilli mayo, this is a dish truly fit for a king. Seaweed, skinny fries and neonati cakes have also been tossed in for extra flavour and texture. Yum!
Calamari fritti
Definitely one of the most popular starters with our guests, these calamari go down a treat with a glass of dry white wine. They're served with a green pepper salsa, tequila chili mayo and homemade seasoning. Yes please!
Green Thai Curry Black Mussels
Another starter that's gained a favourable reputation with our clientele, these mussels are a muss-try! Served on toasted bread and swimming in a bed of ingredients which include fresh chillies, lime zest and coconut milk, this dish packs a spicy and tasty punch.
Grilled Sea Bass
Get ready for some of the best grilled sea bass you've ever had in your life when you order this meal at Hugo's Terrace. Hugo's creative chefs have put their own spin on this beloved Maltese dish; ingredients like squid ink dressing, poached egg and bearnaise sauce are a match made in culinary heaven!
Hugo's Surf
One for the burgertarians! If you're tired of beef in your patty and in the mood for something different, we cannot recommend this burger enough. Enjoy unusual yet sumptuous toppings such as tempura prawns, saffron mayo lemon dressing and beer battered cod.
If you're more partial to something familiar and traditional, don't worry – Hugo's culinary experts have got you covered. The Grills section on our food menu offers Grilled Swordfish, Grilled Salmon and Black Mussels. Don't forget to have a look at our drinks menu – order a cocktail or bottle of wine to share among yourselves! And for more of these updates, be sure to follow us on Facebook.