welcome to
Hugo's Malta —
H – HIGH STANDARDS
U – UNWAVERING COMMITMENT
G – GROWTH AND LEARNING
O – OBJECTIVE DRIVEN
S – SUCCESS
Our mission statement:
Highly committed toward outstanding quality of product and service

Tenaciously driven by innovative demand and dynamic change

Equal Opportunities. No distinction of race, gender and sexual orientation between both clientele and employees alike.

HUGO – THE MAN BEHIND THE LEGEND
After having left Malta for London at the tender age of 18, Hugo Chetcuti started out as a dishwasher, then as a waiter, serving breakfast at a hotel in Sussex Gardens, Paddington. After having gained a fair share of insight, both within the hospitality and entertainment industry, Hugo returned from the UK a year later, intent on using his acquired experience to set up on his own.
He initially purchased a struggling bar with the sole aim of commercialising an area which back then, only consisted of a few nightclubs and watering holes. He had recognized the full potential of Paceville upon his homecoming and with the aid of his intellect and knowledge of the UK industry, he immediately set out to revitalise the fortunes of his new acquisition. Once this had been turned into one of the most successful bar's on the island, he began to capitalise on his prosperity by purchasing real estate in the surrounding areas and turning some of them into widely renowned fast food outlets and entertainment venues, such as Havana Night Club and Native Bar & Restaurant.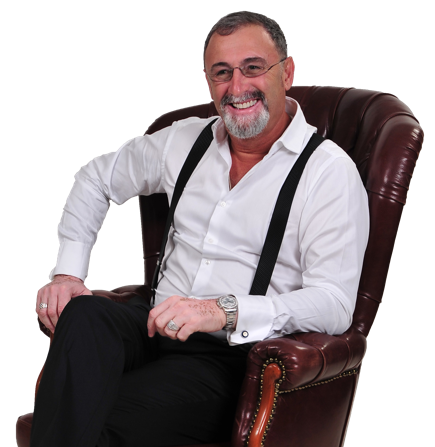 The Hugo's Group and trademark was launched in 2005 with the subsequent opening of Hugo's Lounge. This brand new concept in Pan-Asian cuisine, is not only renowned for its Eastern gastronomic experience, but also for its exquisite cocktails and immersive music. Hugely popular night clubs such as Hugo's Passion and Shadow Lounge (now known as Shadow Club) soon became an institution among the local clubbing scene and have been followed up by Hugo's Terrace & Rooftop (the brands flagship), Bacco by Hugo's, Hugo's Pub, Hugo's Burger Bar, Hugo's Pizza & Pasta, Hugo's Seafood & Cocktail Bar and Food+.
Due to its longstanding recognition of customer service and a diverse, but exceptional quality of food at affordable prices, it was inevitable that the Hugo's Group intensified its commercial reach by including facilities which offer high-end accommodation. Thus, June 2016 saw the Hugo's brand venture into the hospitality industry, with the first instalment of its deluxe hotels. Hugo's Boutique Hotel offers 40 guest rooms, each with their own unique theme and distinctive character, including 4 signature suites, spread over 9 floors. The hotel also includes Mila's Kitchen and Rocco's Whiskey Lounge, a bar dedicated to the 'water of life'. This year will see the opening of H Hotel, which will offer over 160 guest rooms and suites, with many of them enjoying views of the beautiful St Georges Bay. They combine modern and classic art with cutting edge technology and architectural innovations, thus creating a truly unique, sophisticated guest room experience. The luxurious Infinity by Hugo's is set on the rooftop of H Hotel and is comprised of a 65 foot open air infinity pool, cocktail bar, retractable roof, exclusive vip sofa area's, secluded jacuzzi's and a private champagne bar. RM Aparthotel, the third instalment, is scheduled to open in 2019.
Paceville now stands alone as Malta's main business and entertainment hub and quite rightly, Hugo Chetcuti's foresight and ingenuity has played an integral part in its popularity and success.