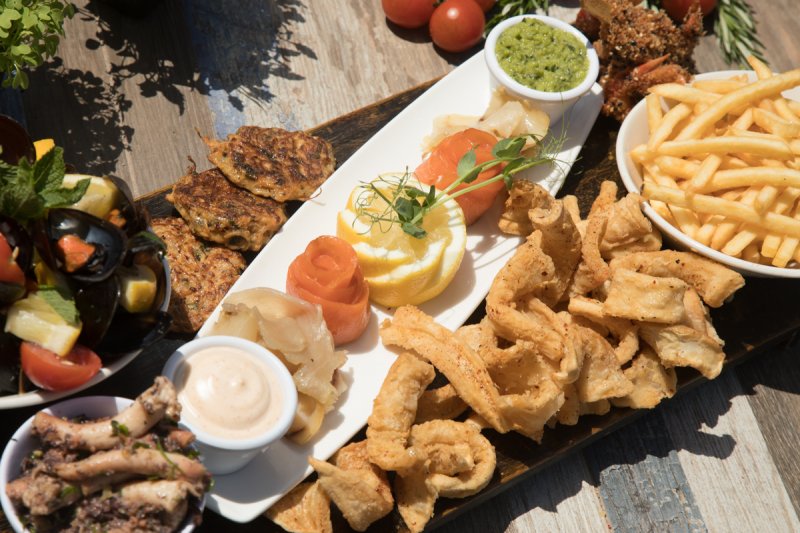 Sharing is caring (or so they say), and what's more pleasurable than enjoying a platter full of heavenly treats with your favourite companions? Hugo Chetcuti and the Hugo's Terrace team match our various platters to different matters, all according to the type of cliques and occasion.
1. Mixed Grill
Our famous flaming mixed grill platter includes Thai marinated chicken brochettes, beef fillet kebabs, honey and mustard glazed Maltese sausage skewers, lamb patties, BBQ glazed pork ribs and sticky chicken wings. Served with sweet potato fries and our home-made BBQ sauce!
Ideal for friends who love talking about football or a stag do!
2. Cheese Platter
A selection of five cheeses; Parmiggiano Reggiano, fresh ricotta, Burratina, Roquefort and Basiron red. Served with grapes, figs, dried apricots, olives, and spicy mango chutney, this one's for the intellectual souls out there who can't get enough of Dante and Sigur Rós.
3. 8 Mini Burgers
Served alongside crispy onions and skinny fries, these 8 mini versions of our most popular burgers are the perfect treat for a group of fun-loving friends who like to party and keep things light. Whether you're watching a football match or for indecisive burger lovers who can't commit to just one. Wash it down with a cold beer and Bob's your uncle.
4. L'Italiano
Stuffed olives and focaccia bread pair well with the finest ingredients hailing from our neighbouring peninsula. Cultured and sophisticated Italophiles: dig into Parma ham, Parmiggiano Reggiano, Spianata Piccante and Burratina, while discussing art, fashion and all things Italy, over a glass (or three) of wine.
5. Poseidon
The flavours of this delicate fresh fish and shell fish platter – which includes calamari fritti, home-cured salmon beetroot gravalax and king prawns – is only further highlighted by the seaweed, skinny fries, chilli mayo and lemon wedges that come with it.
Ideal for the posher type looking for a relaxed evening before heading to bed after a day on the yacht.
6. Charcuterie
We think this one is best suited for the well-travelled who appreciate the finer things in life. The Salami Napoli and chorizo will go down a treat with our selection of matured cheeses such as cranberry cheddar, Roquefort, and herbed goat's cheese. Complete with candied walnuts, grapes, apple wedges, focaccia bread, water biscuits, celery sticks and home-made tomato chutney.
7. Fruit Platter
This platter is as vibrant as the season it is most often eaten in – summer. Hugo Chetcuti's chefs choose the freshest seasonal fruits daily, ensuring the best quality.
What better after a long day of basking in the sun at the beach? The fruit platter is great for those craving something light, colourful and refreshing!
The thing we love most about platters must be the social aspect. All our platters serve 2 to 3 persons, so bring some friends along to Hugo's Terrace and tuck in! Hugo Chetcuti's team serve sharing boards that are as stylish as they are mouth-watering. Pair with a glass of wine or wash it down with one of our delicious signature cocktails and life's complete.
Keep up to date with our specials and events on Facebook!